Travel to Cahors et Saint-Cirq-Lapopie France, our weekend away guide.
It's that time of the year again when I take an annual birthday trip. I get out of dodge on my birthday (10th of November just so you know).
Now, H.B and I wanted to take a five day road trip to Spain, (yes, that's one of the perks you get when you live in France; easy access to other countries) however at this time, I'm 28 weeks, going on 29 weeks pregnant, and just got over a bad gastrointestinal illness that went on for about a week. My midwife (sage femme) advised against us going to Spain and to pick a place that's a little closer to Toulouse. So, we picked Cahors and Saint-Cirq-Lapopie located in the Lot Valley of France (this is my first time to Cahors and H.B 2nd).
Lost in geography you might say?
Google map Toulouse France, then look north of Toulouse (look up). It's an hour and 30 minutes by  car. You will run into the Lot Valley (also called department just to confuse you), in the Midi-Pyrenees region (now part of the Occitanie region), in the south of France. Cahors is the prefecture (administration office center), the capital of the Lot department. After my little geography lesson you're probably saying: « Well where is Saint-Cirq-Lapopie? » It's only 18 km from Cahors, that would be 11.185 miles.
So, we packed our bags and left on the 9th of November (2017 trip) just after filming our first Storytelling ´N French video.
If you're looking for a place off the beaten path in France, I must say put Cahors and Saint-Cirq-Lapopie on your to-do list. This is a great place for aficionado of wine, photography, painting, foodies and wannabe Julie Robert's Eat, Pray, Love (mange, prie, aime) the French version of finding yourself.
Now, we tried something different talking only in French.
Why?
Because I received lots of requests from English speaking people to do videos in French, your wish is my command. This is a great way for you to practice your French, hear me talk in French and learn about the history of France from a real French guy, that would be H.B. If you prefer our travel vlog in English, just say so in the comments down below.
Don't worry, I'll give you the breakdown in English of where we stayed, where we ate, the places we visited right down below just after the video.
So, even if you don't speak French or have a beginners level go and check out the video. Pictures are worth more than a thousand words, and besides H.B and I put in a lot of hard work to make this video for you.
The hotel breakdown
First thing's first, you want to make sure where you're planning to stay (a night or two) is bien centré (easy access and near the city center), where you're to do most of your walking around, taking pictures etc…
HB found a hotel on the website booking.com,  Le Coin des Halles. It's a two star hotel that has a Bar-Restaurant located right next to an indoor market (marché). Also, via the website booking we saw that they accepted DOGS! The picture via the website looked very modern with an art déco style for the room and the breakfast room. Plus, we saw that the reviews via the website were around 4.2 stars, and at 70 euros per night which included the petit déjeuner (breakfast), we were SO gung-ho.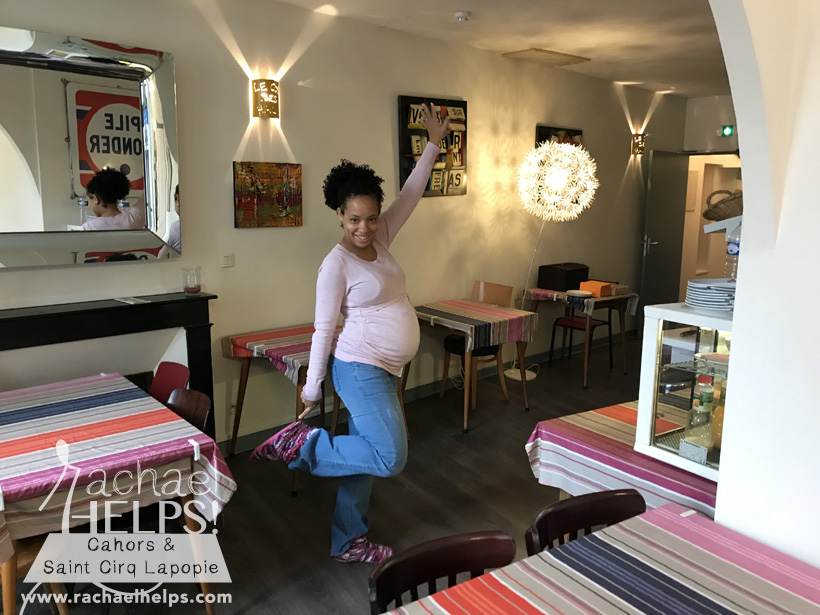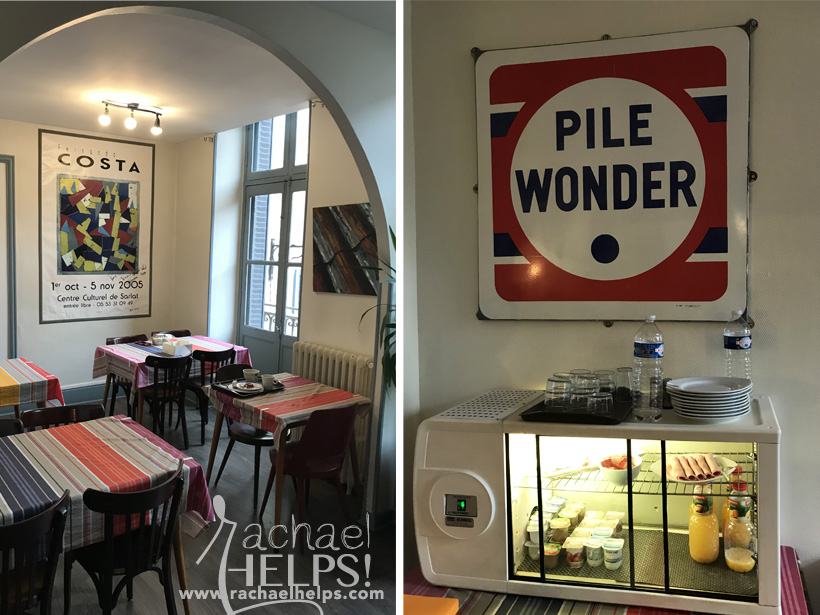 The parking was the only thing that bothered us. If you have a car, finding a space on the street near the hotel is really hard. Oh let me not forget, I found on the 2nd night of our stay on our bedroom door that they don't accept dogs??? Although, it clearly stated that they DO accept dogs on the website booking.com. Anywho, no one said anything to us nor did we bother to ask.
In the video, what was HB saying in French and what did we see?
Day 1:
As soon as we arrived, we unpacked our bags and we ventured out into the street to get familiar with the surroundings of the old town (vieille ville) of Cahors.
At night Cahors has a majestic vibe to it with its narrow turning streets and the old architecture.
Just right next to our hotel is an indoor marché (market) and on Saturdays there is a farmers' market in the streets right next to the indoor marché. You can see all this in the video above.
We found a restaurant across from our hotel called Le Lamparo. We were first wowed by the architecture of the building and the inside looked so cozy, it lured us in. Their menu was nothing to write home about, they had typical dishes like pizza, duck and steak. It was late, and we were hungry and just wanted to eat. So, the Le Lamparo did the trick.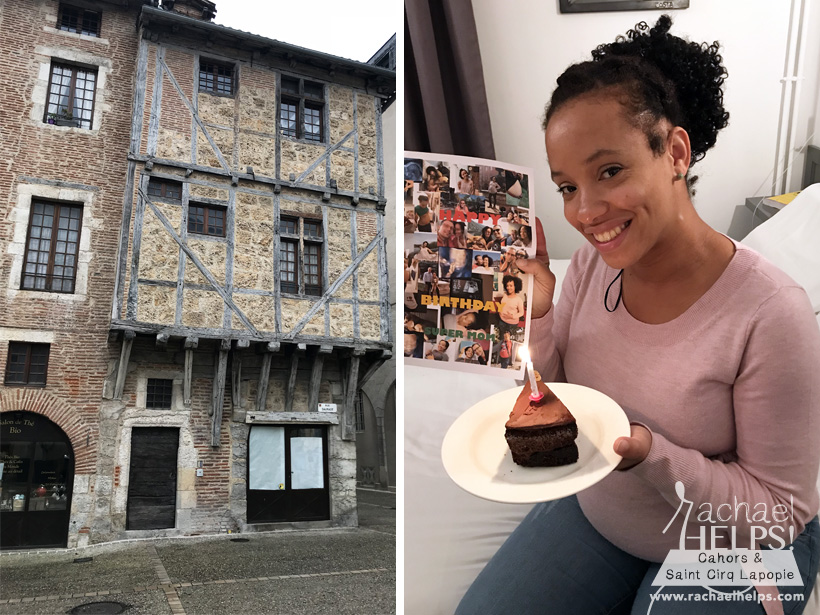 Day 2 (My Birthday, 10 Nov.) :
In the morning, I was greeted with warm, happy, birthday hugs and kisses from HB and Luna (dog), and a small gluten free chocolate cake with a candle followed by a breakfast in the hotel.
We decided to spend the day in Saint-Cirq-Lapopie where HB would be my private guide to the history of the Lot valley, Cahors, wine and all things French.
My history lesson began in the car on the way to Saint-Cirq-Lapopie.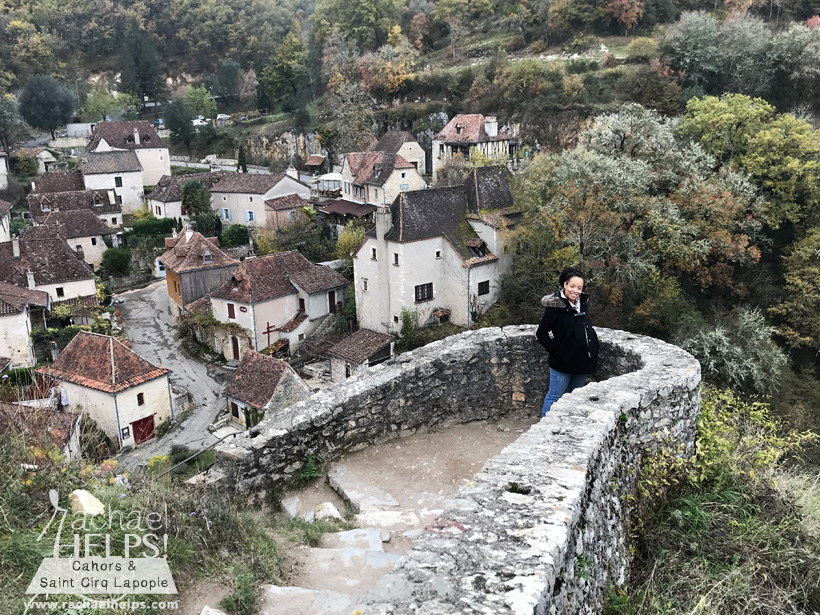 In this order,
you can hear HB talking in French about:
1.) Prehistory & the Pech Merle Cave (Préhistoire & Grottes Pech Merle): So what does grottes mean in English? Caves, tada you learn a new word in French. This place is an untouched site that dates back a thousand years. You can see prehistoric paintings of spotted horses that are over 29,000 years old. We didn't have time to visit this cave but it's on our TO-DO list when our son is born. This is a great visit for adults and kids too. Here is the website, if you would like to learn more click here.
2.) Chemin de Halage à Bouziès: Chemin de Halage is a man-made towing path cut clean into the rock along a canal (river), used by boats and animals. This is a towing path that is between the village St. Cirq Lapopie and Bouziès. It was built in 1845, used by horses to tow barges or flat bottomed boats, taking local Cahors goods to Bordeaux, like wine, dried plums, and wood.
We traveled along this towing path by car (you can see at one moment I was scared crossing the tiny bridge with our car in the video), then we stopped at Bouziés to have have a look around. You can either ride your bike or hike different trails in Bouziés. You'll see that too in the video above.
3.) Les séchoirs à tabac: In the video you can see us driving along the tobacco fields and HB talking about how they used tobacco dryers (little huts) to dry the tobacco. The Lot Valley is one department in France that pioneered in the tobacco culture and dates back to 1660.
4.) Sorgho et vin de Cahors (malbec): First you might say, « what is Sorgho? ». I asked this same question too. It's translated into Sorghum in English. It's an ancient grain that comes from Africa and it's the fifth most popular cereal crop in the world. H.B talked about this grain in the video and the field where it's grown. This Frenchie knows his wine, and the Lot Valley is known for GOOD wine. As we were driving along you can hear HB talking about the local wines and vineyards in Cahors that produce Malbec. There are more than sixty winemakers in the Lot Valley. So, if you're an aficionado of wine put this on your list: wine tours of the Lot Valley (be sure that you're not driving after tasting all those GOOD French wines).
5.) We finally arrived at Saint-Cirq Lapopie.
This medieval village is perched on a cliff, three hundred feet high, and gives you a beautiful overview of the Lot Valley. It has thirteen historic buildings and is considered one of the most beautiful villages in France. After my visit, I would have to agree.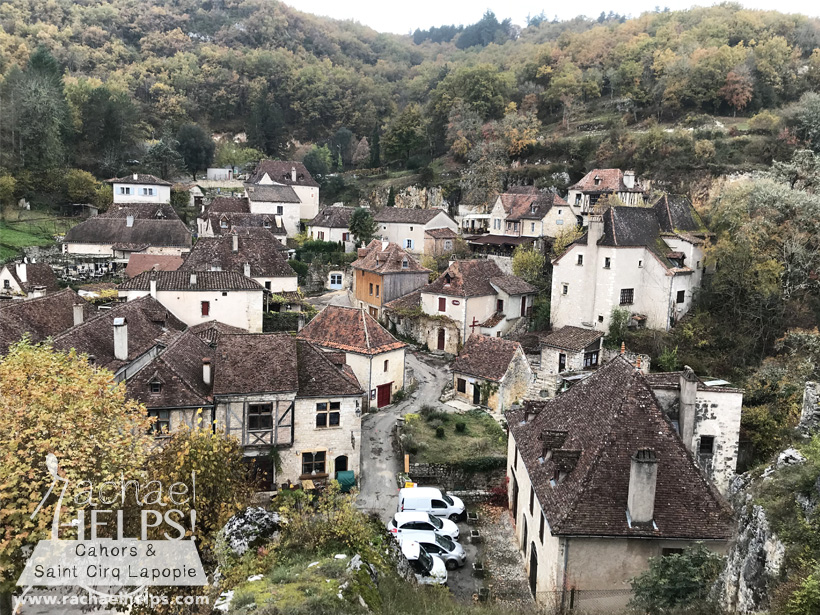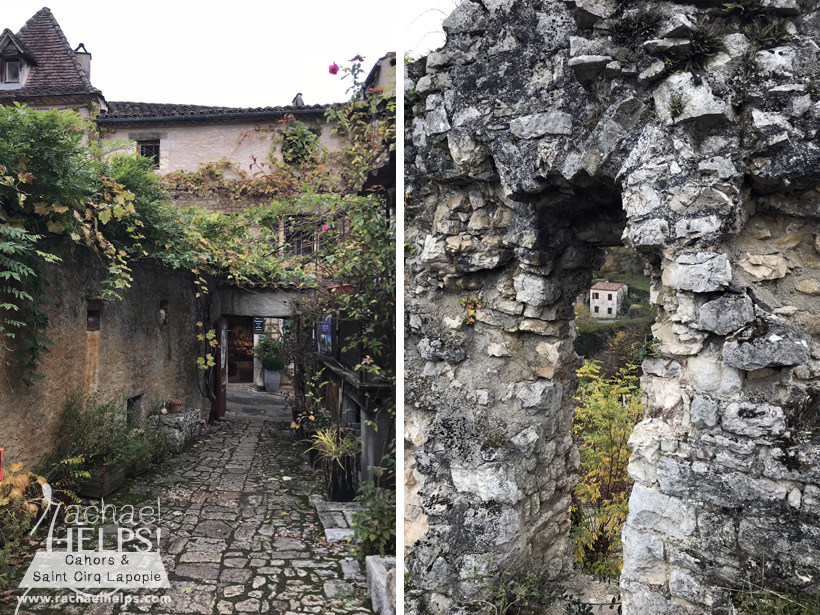 Have you ever heard of the word feudalism?
I think it's important to know because feudalism (a social system) existed in Europe during the middle ages in which people worked and fought for nobles who gave them protection and the use of the land in return. Humm, kind of sounds like another form of slavery or human trafficking in modern times??? This went on from the 9th to around the 15th century in Europe.
So glad I wasn't born back then…
So, during that time in Saint-Cirq Lapopie you had several dominant families that ruled over that area: the Lapopies, the Gourdons and the Cardaillacs. They built several castles and fortified houses that you can see throughout the village.
In the 12th century, this fortress town stood guard over the valley and kept a close watch on all passing traffic up and down the river.
It's worth the effort of climbing up to the village by car, bike or foot. The viewpoint gives you a beautiful panoramic view of the Lot Valley and river. During the medieval times many people settled there (like tanners, cauldron-makers and wood turners), to take advantage of the protection and using the port below the village to export goods that they made.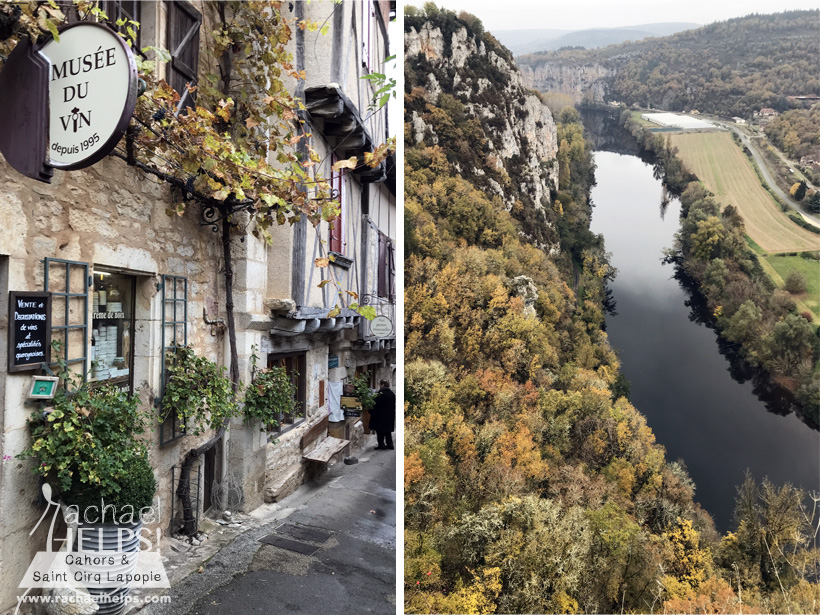 After the car ride and walking around my baby bump told us it was time to eat.
We found a cosy tavern-auberge, and YES dog friendly, called Le Sombral (Auberge du Sombral). OMG, I don't know where to start, our meal was soooo delicious. I was surprised because it's rare to find haut gastronomic French cuisine at the price we paid (good deal). Plus we picked this place par hasard (by chance).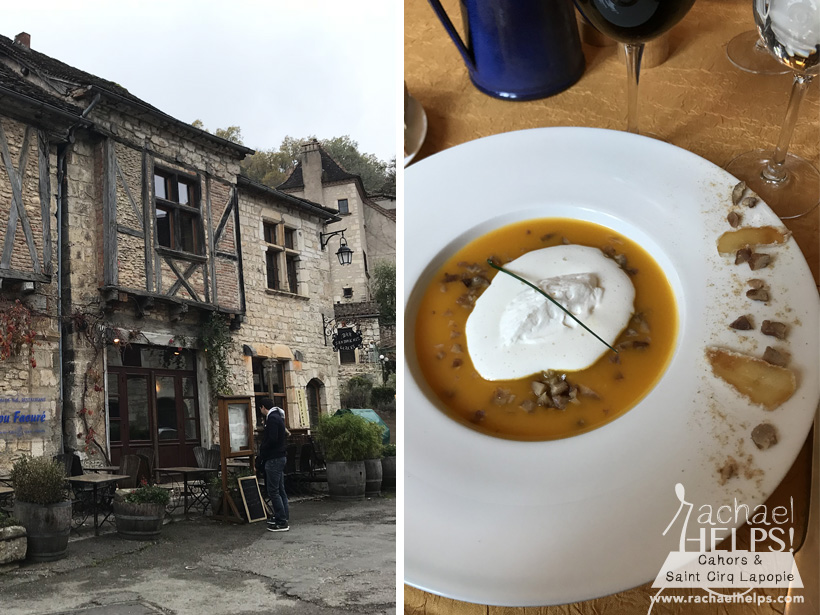 The decor inside was a trip to the past with a wood burning fireplace in action. We ordered homemade French soup to heat us up and I drooled as I watched HB drink a beautiful colored glass of red wine. Luna (dog) enjoyed the pieces of French bread we gave her under the table.
You can see this all in the video.
If you're looking for a place to stay and a good restaurant in Saint-Cirq Lapopie, put Le Sombral on your list.
Soon after we had finished our late lunch in Saint-Cirq-Lapopie, we headed back to Cahors making two more historical stops.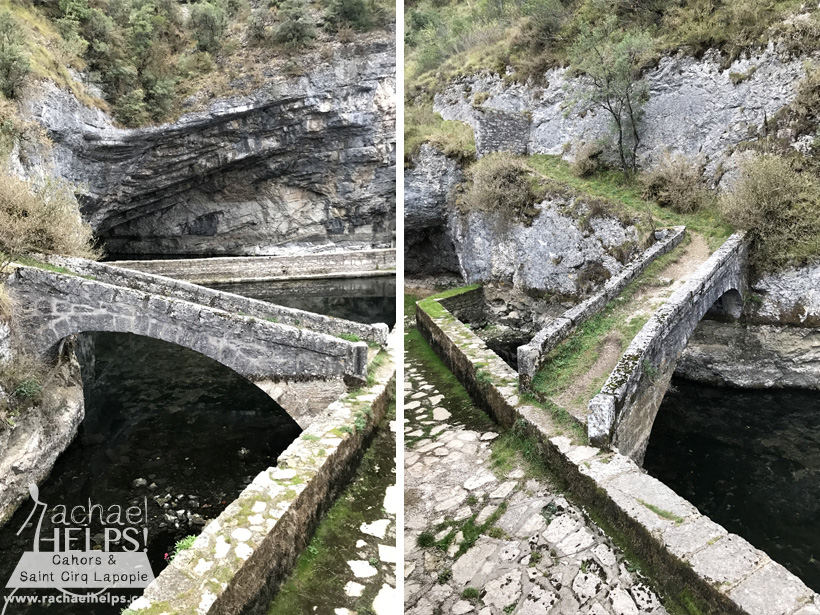 Our first stop was at Fontaine des Chartreux. This was once a place of worship

for the

goddess Divona (goddess of waters of Celtic origin), and at one time it supplied Cahors with drinkable water. Roman coins were discovered in the

fountain

in 1989 that date back to

the

1st century BC and the 1st century AD. Today, I

find

it sad that you have so many cars speeding by this

fountain,

making access to it very difficult and dangerous. Plus hiding the view of this historical site.

Our 2nd stop was at Pont Valentré: the Valentré bridge,  If this bridge could talk, it would probably scream, «FUCK-ME, I'm famous and the devil made me do it ». This is a bridge that took almost 70 years to complete, dating back to 1306.

Why so long?
Because of a legend that an architect sold his soul to the devil to help him build it, and then he tricked the devil. Maybe this story was made up to scare the little kids at that time. I think it was more to do with the 100 year war that was going on in that region. You can see on one of the guard towers a little devil. The bridge leads you to the city center of Cahors and you can cross the bridge by bike or foot (no cars, thank god!). Also, you can see me in the video having a fun spat on this bridge with a passerby on whether dogs are good or bad. French people love to ask if a dog is good or bad. For me, the dogs are neither, it's the owner who is either good or bad on the way they educate the dog.
Once we finish our visit of Pont Valentré, we headed back to the hotel to just rest. That was a lot of walking for me and my baby bump.
In the evening we went to Le Bergougnoux restaurant , located in the old town of Cahors where I had my first pot-au-feu de la mer (Sea stew), and it was so good. HB found this restaurant on the internet where it had many raving reviews.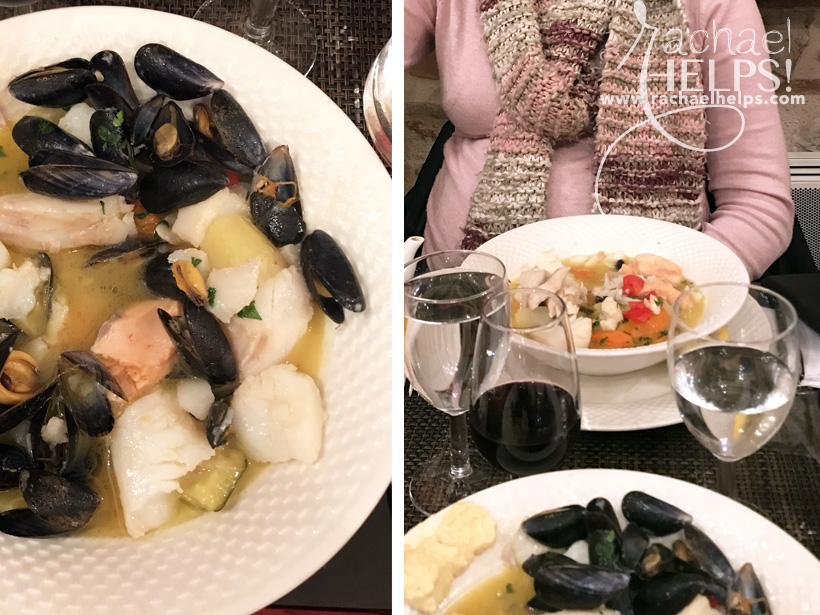 Two things about this restaurant that's so unique are:
The menu, one price (21€) for starter, main dish and dessert. You can opt-out of the starter but you will still pay the same price, as it is written on the wall "pas de plat à la carte"
The owner, also the chef has an easy going spirit and at the end of your meal he comes to talk to you about the food, life and anything in between. I enjoyed our conversation that we had with him.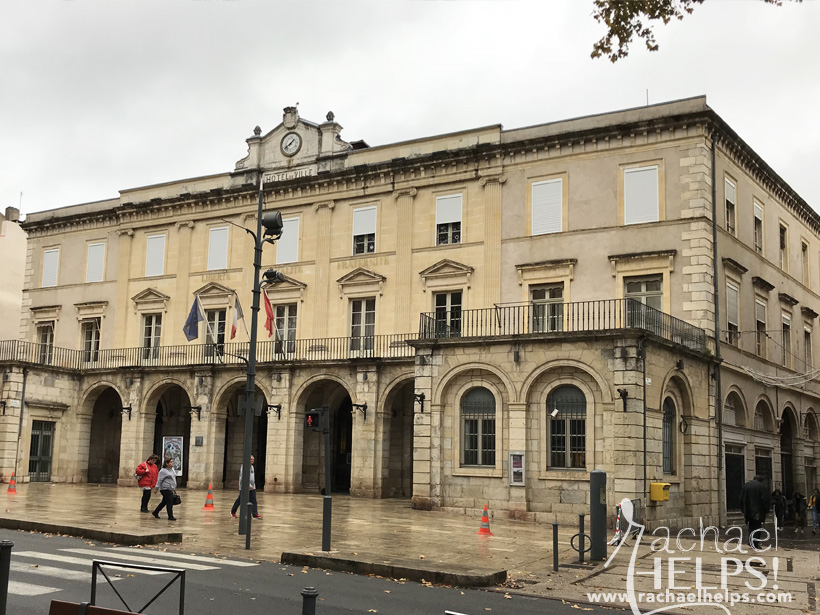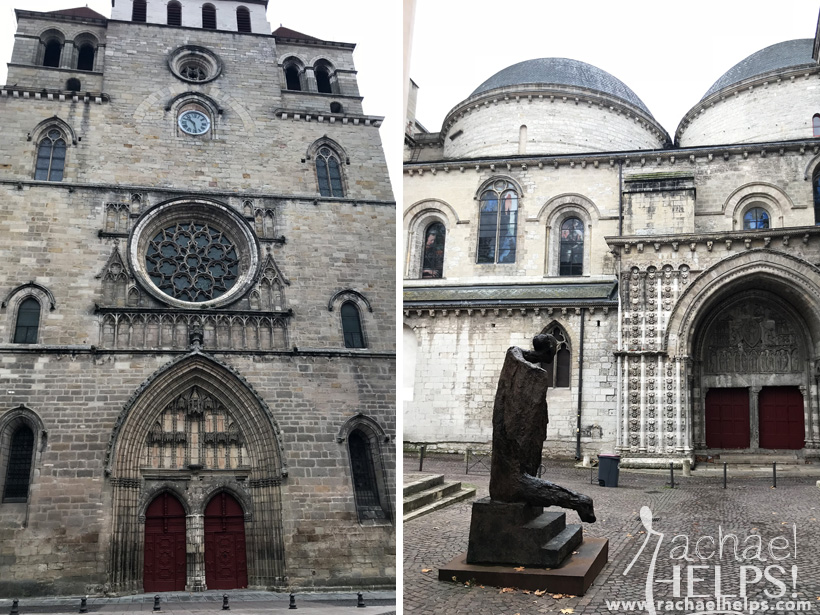 DAY 3 (Our last day):
This day was a lazy day for both of us, I was sooooo tired from all the walking we did and baby bump was making me sleepy. So we just walked around the vieille ville (old town) of Cahors. You can see us visiting the Cathédrale, les Jardin Secrets and Église Saint-Barthélémy. I even stopped in a local shop called Poterie des Halles, to buy two handmade tea mugs from local artists.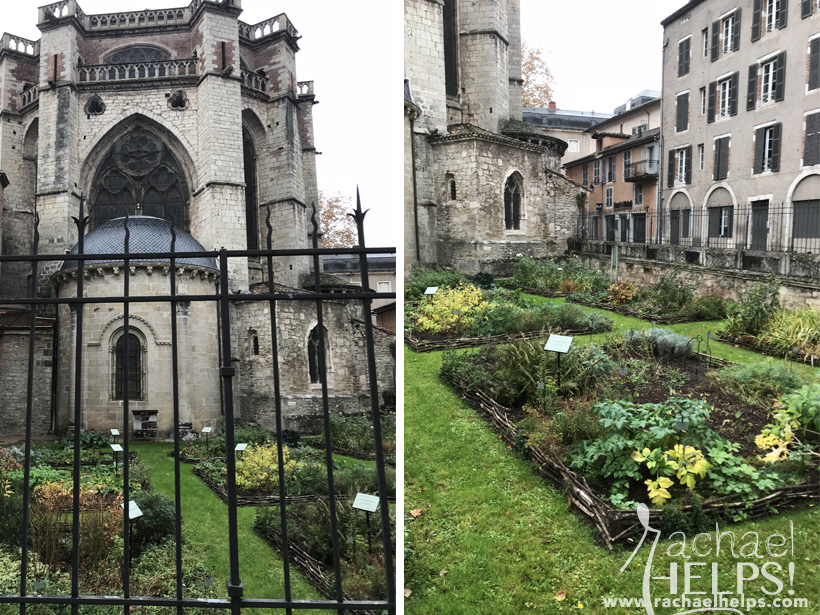 We are so used to traveling to others countries that we forgot about tourist season in France which ends on the 31st October. This is when some of the main attractions close. You can still do a lot of sightseeing but make sure the thing that you want to see and do is open during the time you plan to travel. Lastly, be careful of French holidays. There are so, so many here like the day after my birthday (11th November = Toussaint). Everything was closed on our last day in Cahors. Even finding a place to eat lunch was hard.
However, we eventually found a cute salon de thé called Le Petit Salon restaurant végétarien, also DOG FRIENDLY.  I enjoyed my double decker chocolate, raspberry crêpe tart and my rooibos tea that went with it. So yummy in my tummy.
HB is a great tour guide, I learned so much in so little time about Saint-Cirq-Lapopie and Cahors. It does make a difference when you travel with someone who knows the history of a city, rather than reading about it in a guide book. It adds a different flavor to discovering cities in other countries.
Would you like to be notified via email the next time I create a travel Vlog & Blog?
Also learn a little more about France  (life, work, relationships and more)?
If yes then sign-up to une lettre de Rachael.
I will write you two lettres (letters) per month. Yes, the old fashion way.
In the comments below, I'd love to hear from you.
So, please share:
Have you been to Cahors before?

Are you planning to travel to France?
If you enjoyed this post, I'd be very grateful if you'd help it spread by emailing it to a friend, or sharing it on Twitter or Facebook.
Thank you for reading and adding your perspective to the conversation!
See ya in the comments down below .
Remember to LIVE, LOVE & design your life the way you want it to be.

Talk to you soon,
Rachael HELPS!